Navigate the World of Note-Taking: Choose the Best Approach for Your Needs
Explore the three fundamental categories of note-taking and task management to find the best approach for your needs. From atomic note-taking to sheet-based systems and personal knowledge management, learn to choose the right tools for your style and maximise your productivity.
The never-ending debate on the best tools and methods for note-taking
I've noticed a never-ending debate about the best tools and methods for note-taking and task management on Twitter, Reddit, books, and the web. Sometimes they even argue, almost as if it were a matter of religion.
People misunderstand and talk past each other when apples and oranges are compared.
There are dozens of ways you can take notes and do task management. I have tried them all:
Paper, Digital, Whiteboards, and hybrid solutions.
All the favoured tools of the last few years: Evernote, OneNote, Roam Research, Obsidian, Tana, Mem.ai, TickTick, Todoist, and many more.
All-in-one and best-in-breed approaches.
Methods like the bullet journal, Zettelkasten, Getting Things Done (GTD), Workflowy, Outlining, PKM, Second Brain, PARA, Todoist, database approaches and dashboard creation, visual note taking (whiteboard) and post-it notes.
Discovering the three fundamental categories of note-taking and task management
Unfortunately, I haven't found THE ONE system that will work for all eternity and anyone. However, I have worked out a good feeling about three fundamental note and task management categories and how to use them:
Atomic Note-taking for information workers
Sheet-based note-taking for everyday knowledge management
Personal Knowledge Management (PKM) for creatives
Know your Style: How to choose the best note-taking approach for your style?
I'll briefly describe the three categories in the following sections to enable you to choose the best tools for your use case.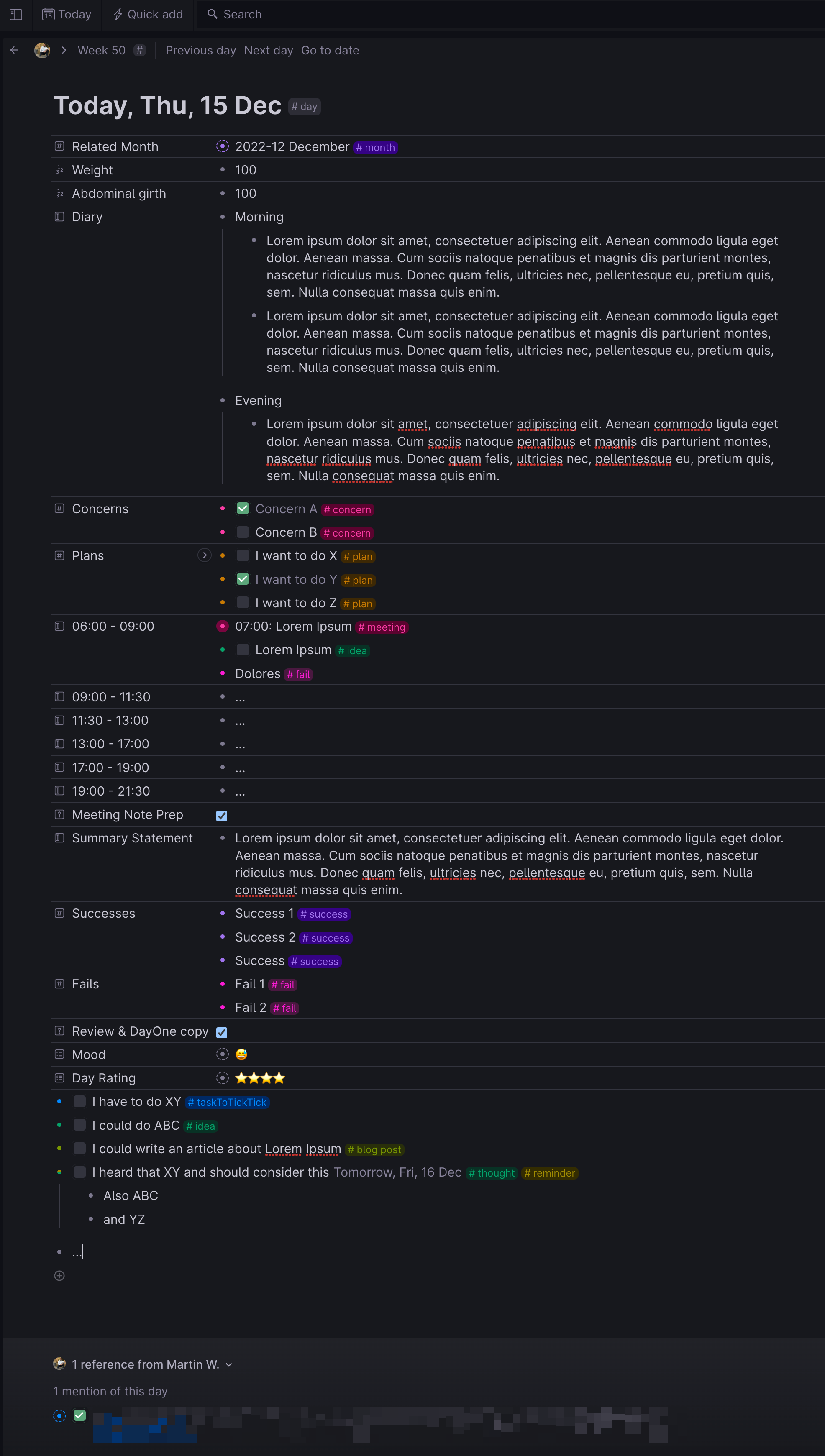 Atomic Note-taking for information workers
This is also called outlining. In analogue, it would most likely be a "bullet journal". In Atomic Note-taking, you think in bullet points, and each bullet point has meta-data assignments:
Type (idea, thought, task, meeting, reminder, principle, web capture, ...).
Project affiliation (work projects, private passion projects, experiments, a book, ...)
Date and time
Why is it called "atomic"? Because every bullet point stands granularly on its own. In practice, this means not tagging entire notes and assigning them to a folder but making these decisions for each line. A meeting consists not only of meeting notes but also of tasks, thoughts, ideas and off-topic information about the participants. Data is recorded and managed on a smaller scale; accordingly, it can be researched and retrieved later.
The bullet points are recorded chronologically (e.g. in a daily notepad) and often initially sloppily without metadata (braindump). You review the bullet points in the evening or, at the latest, on the weekend and provide them with the metadata mentioned above.
The great thing is that you can add details to your bullet points by adding sub-bullet points. Most tools can then be shown or hidden as you like.
Most tools work with #hastags, @references, or [[backlinks]], which you put at an appropriate place of your bullet or the end of the line:
- #Reminder You need to send [[John Doe]] an #email about [[Project XY]] today @today.
- I might go swimming this weekend #thought #idea
  - Either at [[beach A]]
  - or [[beach B]]
- [X] Finalize the PowerPoint slides for [[Project YZ]] #P1 #Urgent

Through the metadata, you can then have most tools dynamically compile all the bullet points on a topic across notes and days. For example, if you want to know your ideas in the last couple of days, you search for all the bullet points with the tag #idea. Usually, it is enough to click on such a tag.
Tool recommendations (sorted from simple to complex):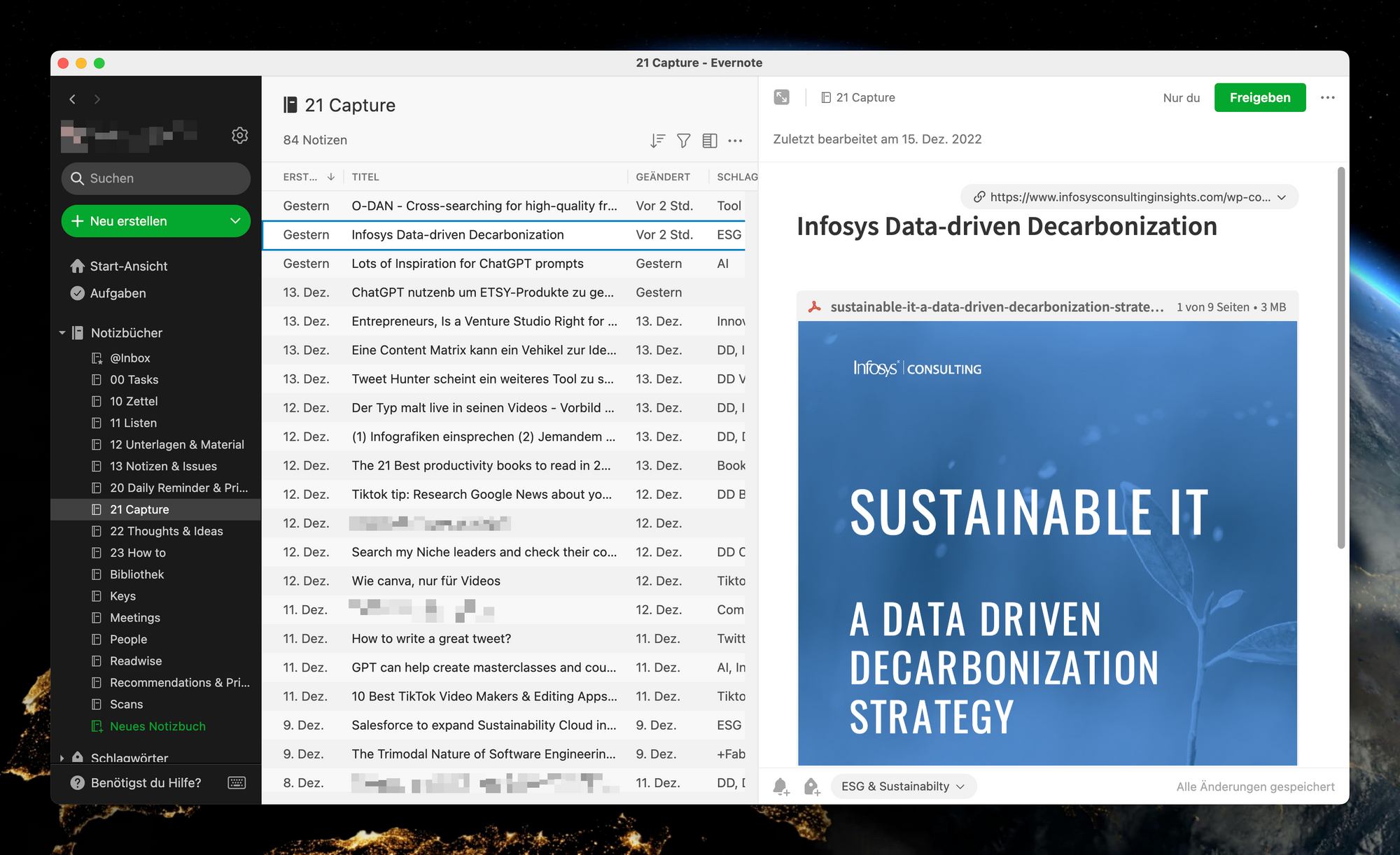 Sheet-based note-taking for everyday knowledge management
This is probably the favourite option for those who want to live digital minimalism. Here you imitate what you would do with paper notes: you have notes on topics or a day and assign them to folders. That's it.
You don't need much in the way of features here:
Headline
Body text
Ability to insert images, links etc.
Assign notes to folders
If necessary, additional #Tags to be able to assign meanings to the notes across folders.
A good full-text search
This is wonderfully simple, but it also leads to the fact that it may be hard to resurface individual thoughts and ideas notes. And that is precisely the point: do you need that? The power of Atomic Note-taking sounds fantastic and feels great to use. However, micro-tagging takes a lot of time, and you may find that you don't need the fine granularity in your everyday life; maybe you even get mentally overloaded by it.
In that case, the note-based approach might be just the right thing!
Tool recommendations (sorted by my preference):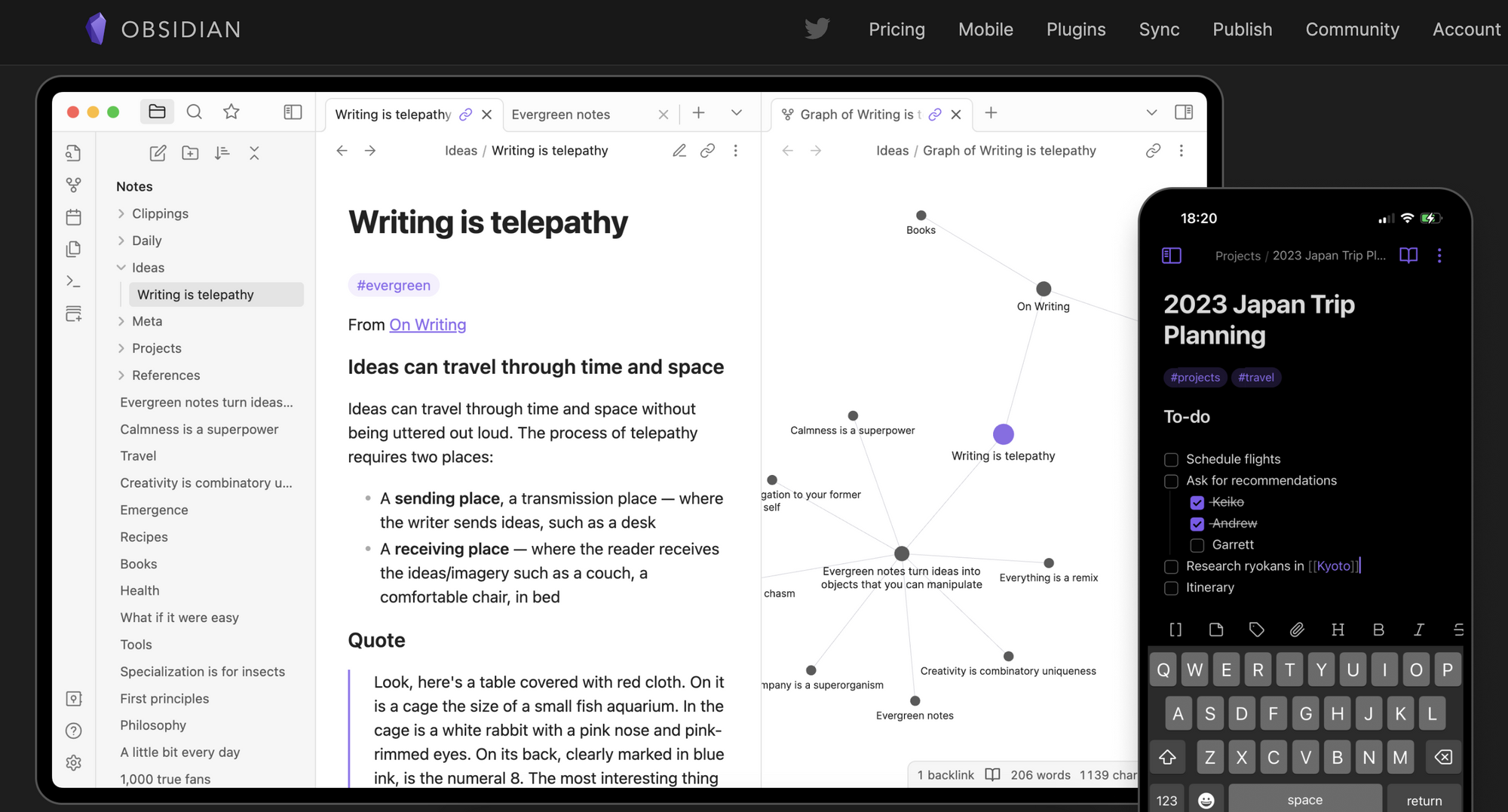 Personal Knowledge Management (PKM) for creatives
Here we are in the world of those who want to build a "second brain" for themselves. They carefully document all learnings in curated notes and link them meticulously via [[backlinks]]. This way, a network of information is created, called a "Tool for Thought (TfT)" or "Map of Content (MOC)". You can also often read about the "Zettelkasten", a specific approach in this category of note-taking.
In many cases, this kind of note-taking is used in the documentation of research and studies (e.g. for the university, the academic environment, or the writing of books). A small Wikipedia of its own is created.
The idea is that linking all personal knowledge can uncover connections that you would otherwise overlook.
For example, you might come across the concept of "First Principle Thinking" in various searches. Once you read about it in a biography of Elon Musk and years later, you stumbled across it in your physics class. You think, "Gee, that sounds familiar but from where?". You look in your "Tool for Thought" and then see where you have encountered this concept.
Some users then share their knowledge as a "Digital Garden" with others.
This variant costs a lot of time to maintain. Still, it can also enable you to write books and papers very efficiently, for example, because you can find and compile all the essential information ultra-fast.
Also, in learning, the extensive curation of that knowledge into hand-crafted notes can help you remember the content better. However, I think I once read that this effect is more vital if you write something down by hand.
Tool recommendation: Obsidian.md
Conclusion, Personal Preference, and Recommendation
Now, what kind of note-taking should you choose? Well, my assessment is as follows:
The PKM is not for me. I've found that I rarely look back at my notes anyway. Often it is the process of taking notes that helps me understand or remember things better. However, I make all the intellectual connections and combinations in my head. In everyday life and lateral thinking, you can't constantly pull out your app to research. Either you have a thought, an idea, or a snippet of knowledge in your head, or you don't. But for authors, especially when sources need to be carefully prepared, this is certainly a good approach.
My intuitive favourite is Atomic Note-taking. It fits well with both my professional and personal needs. It mostly goes into some form of a list for me to maintain (tasks, ideas, goals, projects, ...). However, I have noticed one interesting thing. I don't use the graph/network powers of the new tools (Tana, Roam, ...) and having to review my bullet points in the evening stresses me out. It sometimes feels like a burdensome chore.
So, I'm doing a "purge" again and taking notes in the simplest way imaginable. I have notes and organise them in folders. I manage the whole thing in Evernote. Lists are not compiled dynamically, like in Tana, but I assign the list items to the correct list note. It's okay. Ah, what can I tell you: it feels good not to think so much about advanced note-taking techniques!
Now three last remarks:
You can adapt the note-based approach in Obsidian or Roam too. However, Evernote is better because it embeds web links or PDFs into notes more seamlessly. In other tools, this part is often a bit fiddly.
Whether you should handle tasks and notes in the same system is controversial. Some users prefer separate apps (Things, Todoist, TickTick). I like to have everything together. With the note-based approach, you have a to-do list. With Atomic Note Taking, you have a bullet type "task". This works wonderfully.
There is a fourth approach: combining databases with unstructured notes. Notion does this. However, it's like Atomic Notetaking in the end, so I didn't mention it separately in this article. What you should avoid at all costs with Notion is the endless creation and maintenance of "productivity dashboards". Too many users waste too much time chasing a ghost.
I hope this article helps you to make a good decision when choosing the right note and task management system for you!
---
Feel free to add your tips and thoughts to this page's comment section, Twitter or LinkedIn. Please also use the feedback buttons to give me hints in which direction you would like to see more or less content.
Best regards,
-- Martin from Deliberate-Diligence.com