Diligent Sunday Newsletter / Issue #2
In this week's newsletter, I discuss my blog's origins. I explain my ambitions of aiding determined people who have achieved some goals but are now facing new obstacles and seeking solutions from someone who has overcome them. Additionally, you'll find this week's articles, posts and findings.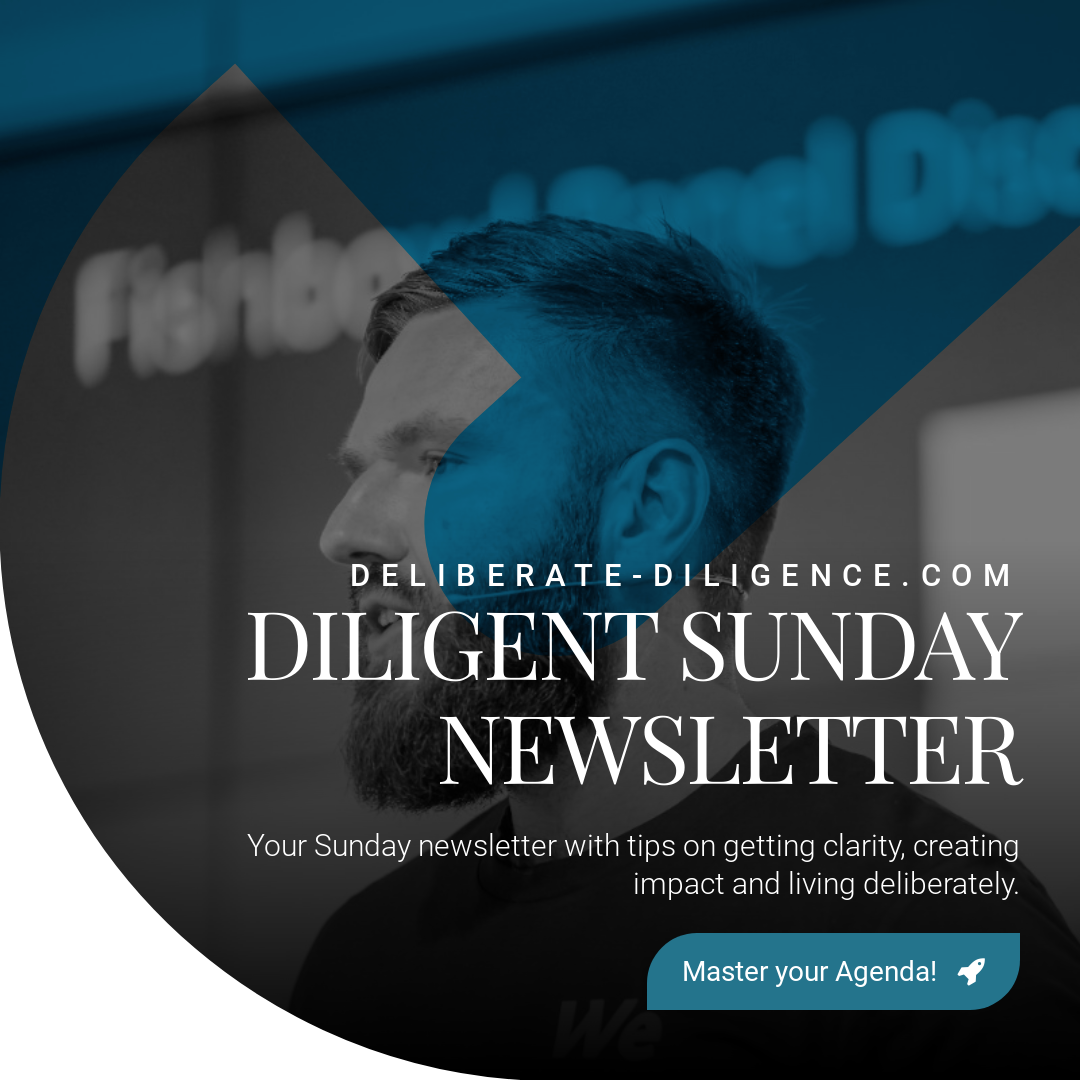 Dear Diligent Sunday Readers,
The passage of time is swift. Despite feeling like we just started the year, we are already four per cent of the way through 2023. Take this as a wake-up call to get moving on the changes, transformations, and passion projects you plan to work on this year. It is now or never!
And if you are already diligently pursuing your goals, I would caution you to be aware that results, from my experience, may not immediately follow your efforts. This is generally true, but especially with health and fitness objectives.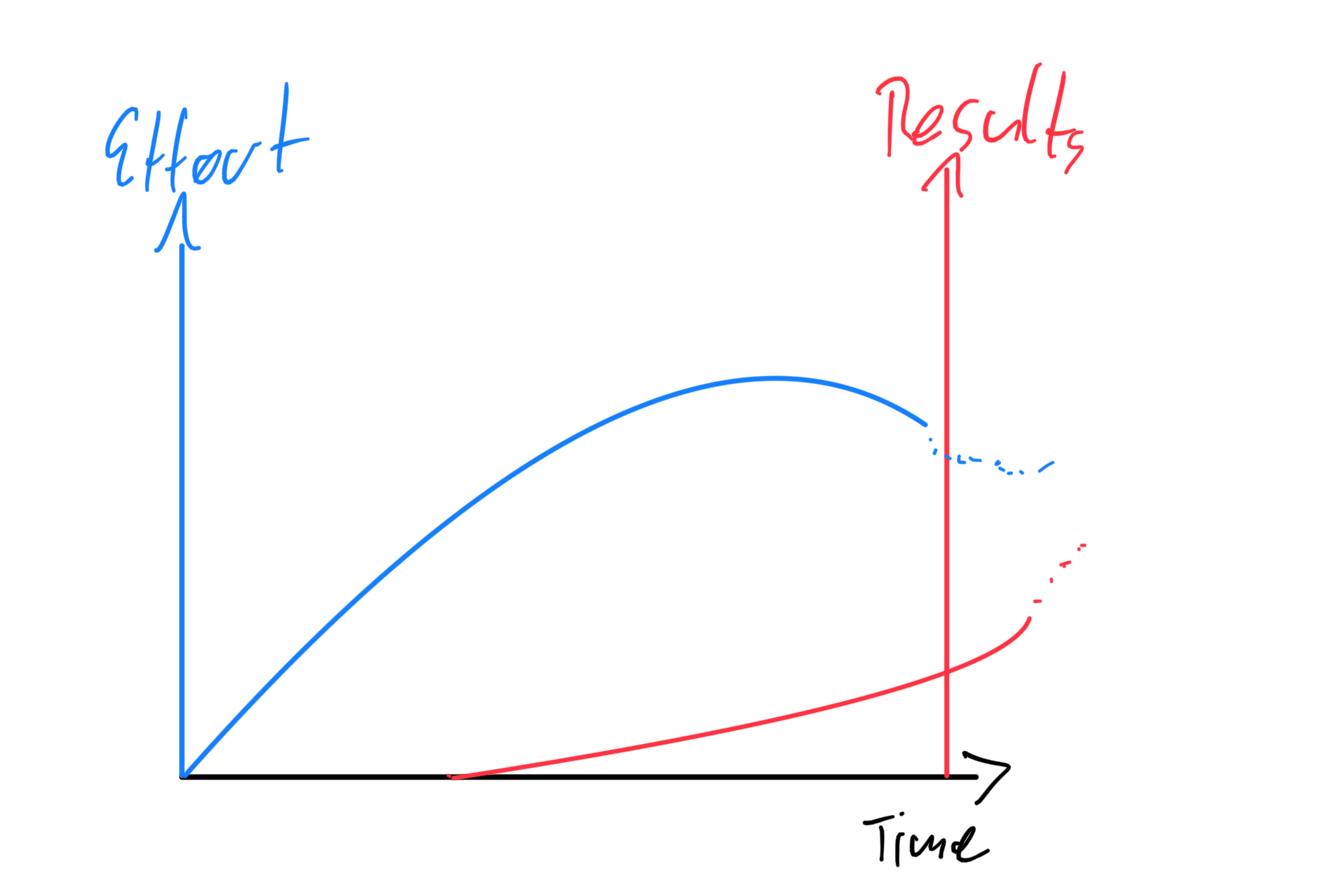 You'll find in this week's issue:
Behind the Scenes: the backstory of Deliberate Diligence
Summary of this week's blog articles & Social Media Posts
A curated collection of further knowledge bites I came across this week.
Thank you for subscribing to my blog, and I wish you an exceptionally successful week!
-- Martin from Deliberate-Diligence.com
---
Behind the Scenes: The Backstory of Deliberate Diligence
I started the blog in late September with a vague idea of what to write about, who to help, and how to communicate (and why, of course). Since I meandered a bit through various topics and writing styles, especially early readers may be aware of this. I also had to learn how to find my target audience on social media and how to become visible In the fog of information overload.
Given how much time I've spent on productivity and self-improvement over the past 19 years, I knew it would have to be centred around those topics.
Besides graduating from university in my 20s and working in corporate for 11 years, it's undoubtedly my most considerable time spent. Consequently, I have a wealth of unique expertise and writing ideas. My fingers fly across the keyboard.
However, there are a lot of subcategories under the terms "productivity" and "self-optimisation," and the internet is rife with resources, ideas, and content creators. So, I had to ask myself: how do I fit into the picture?
Initially, I had the following two concept starting points:
There are a LOT of industrialised productivity-niche content creators out there, and it's clear that they don't give a damn about actually adding value.
They advertise themselves with the number of followers (In part hundreds of thousands) to make quick and simple sales. To create a content and engagement vortex that ultimately lacks real value, they adhere to translucent content creation templates where those accounts copy from and interact with one another.
It's like pickup tactics for the content creator market and funnelling users into one's sales pipeline. It feels like a self-containing bubble where it's hard to see actual value-adding content creators behind all of that noise.
It is similar to pickup techniques, but for the content creator market, with the sole purpose of funnelling users into one's sales pipeline. It appears to be a self-contained bubble where it is difficult to discern actual value-adding content creators amidst all the noise.
Therefore, my first intention was to become a positive counterexample and focus on value-creating content (to the extent that words can create value).
The second reason for creating this blog was to discuss a specific individual and type of struggle.
Second, I realised that while there are many topics and facets of self-improvement areas to explore, my take needs to be distinct and serve a purpose if I want to be sustainable in my endeavour, for the simple reason that it would be foolish to restate the guidance you've already been given.
I've always been convinced that I have a distinctive approach to productivity and self-improvement, but I could not describe it concisely.
My rough idea was to assist younger versions of myself who are facing similar challenges that I encountered by providing them with solutions from someone who has already overcome them.
Persona and struggle to solve:
They are very determined by nature and consistently work through the first pre-defined goals of life. Through school. Through the basic military service or the voluntary year (when that still existed) and through university.
Suddenly, the moment has arrived. The university diploma (or some similar last pre-defined milestone) is present. The first job has been found. So, what now? There is great superficial advice and social norms: starting a family, working, taking a vacation, and so on. But what truly solves the thirst for meaning?
I fell into a massive hole at this point and made many mistakes.
I let myself be driven by events without having an agenda of my own.
I put a valuable time of life with a lot of effort into things that were superfluous in retrospect. I have stressed myself unnecessarily.
I have let myself go and made some unhealthy life choices. I was pretty heavy for a while and spent too much drinking and partying to fill the emptiness inside me (with only short-term success)
I've spent a lot of time and energy putting on a mask to hide my true authentic self because I lacked vulnerability.
I've learned a lot of things in social relationships and dating, both good and bad.
This is also not a one-time problem, but it extends over a whole life stage from about ages 22 to 40. Some struggle more, some less. I want to help those who struggle more and are going through similar issues.
I didn't find my true self and purpose until I was 35. That's quite late, in my opinion. My hope: maybe I can help other people find their clarity in life a little faster.
The unique approach
As previously stated, I believe I exemplify a particular approach to achieving success in life. Each blog post brings me closer to a detailed description of the issue, although I am still unable to do so in a concise way. I can only paraphrase:
I believe that the key to success in life is arduous diligence.
In fact, I think it's apparent that it should be. My father used to say, "Out of nothing, comes nothing". I grew up with this fundamental principle. Many people do, and they are told that this is stupid. Suppose you take a look at the best-selling self-help books and content creators. In that case, they usually preach using "leverage" and that everyone can set themselves up "4-hour workweek" and create 7-figure businesses while having the best and sitcom-worthy relationships.
I firmly believe this is not true, and my experience has taught me that no one is granted anything without actively pursuing it.
The self-help content creators are even quite candid with the truth and are celebrated for it by their fans!
❗
I had an eye-opening experience while listening to one of these creators explain in a podcast that the market's attractiveness stems from the fact that no one wants to go through the hassle of having to change. People want to BUY something that makes them feel like they've taken action.
And this is precisely what those industrialised self-optimisation content creators seek to exploit.
This leads to the meaning of "Deliberate Diligence"
In consequence of these recognitions, I've titled my blog and approach "Deliberate Diligence":
Diligence: I believe this is essential to achieving success in life. I won't promise quick and easy solutions, but I will describe those that work eventually when applying effort and action.
Deliberate: I have always been diligent; however, as previously stated, for a long time, I did not have my agenda and simply did what was required of me, for example, at work. As a result, I've added the word "deliberate" to the front. Diligence is a waste if we do not apply it consciously and purposefully. That would be nothing more than procrastination, so you might as well lie down on the couch and browse Tiktok all day long.
Deliberate Diligence's refined Value Proposition
I was thinking yesterday about how to package the background I described for you into a concise value proposition without having to write 1200 words about it (it did feel good to write this down at least once, though). I want to present you with the preliminary outcome here:
I help ambitious achievers establish their agenda for success by providing clarity, enhancing their impact, and encouraging deliberate, diligent living.
Even though that seems like a simple sentence, it means a lot.
For instance, a respected co-worker told me that some of my ideas are hard to practice with kids. He's right; you must use the concepts creatively and find a middle ground.
With the new value Proposition, it's clear that when I write, I usually think of the 22–40-year-old "Ambitious Achiever" who is still about to start a family, not the father or mother who is trying to balance work and family. I couldn't do that because, in this instance, I don't have any relevant expertise yet.
Another audience is welcome to read my blog, but they must adapt the ideas to fit their needs.
What's Next: Content Plan Execution
According to this value proposition, I will continue to develop and implement the following content matrix: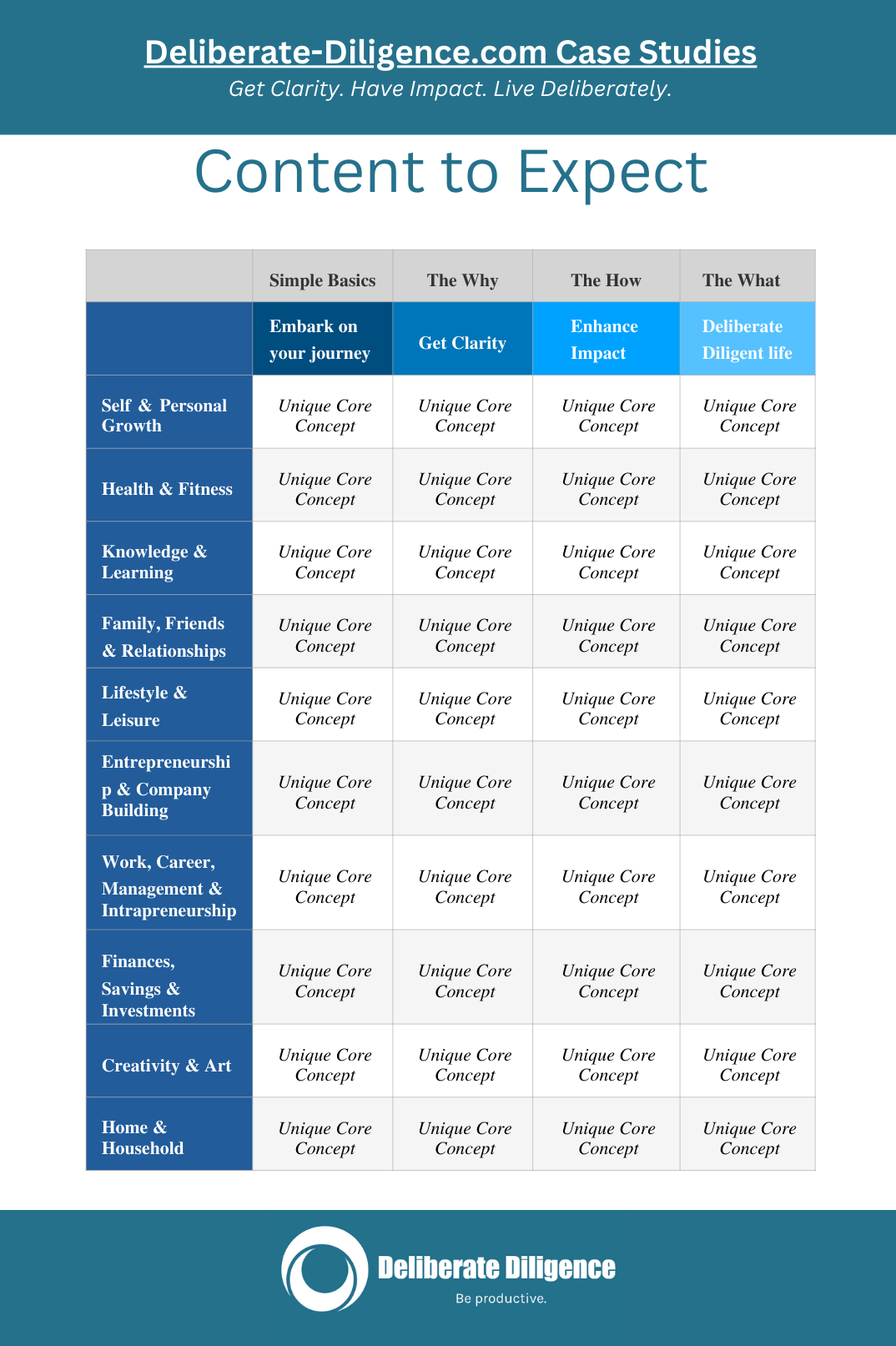 ---
Summary of this week's blog articles & Social Media Posts
Unlock an Extra 4 Hours of Daily Productivity: The Power of Combining Movement and Mental Tasks
Engaging in concurrent exercise and mental tasks enhances focus, in contrast to multitasking solely with cognitive endeavours, which leads to distraction. In this article, I suggest scheduling meetings and other mental tasks during time spent moving to extend your day by several hours.
The Power of a Daily Budget: Simplifying Your Finances
Managing finances can be overwhelming, but a daily budget simplifies it. This method involves setting a daily spending limit and tracking expenses as they occur using an app or spreadsheet. Tracking daily will help you break the cycle of impulse purchases and thus improve your financial health.
Sugarless Victory: How Cutting Out Sugar Improved My Hunger Feeling
A daily routine can bring a sense of satisfaction and stability and be a powerful tool for productivity and success. It can also help with decision fatigue, reduce stress and anxiety, and allow time for activities that bring joy and fulfilment. Finding a routine that works may take trial and error, but the effort can be worthwhile. It is possible to have a flexible routine that accommodates personal control and the need to adapt to unforeseen circumstances.

Additional Social media posts worth mentioning
My most favorite Tiktok videos this week, that I produced:
This week's most successful video received traction (14-15k views) not because of its content but because of the youth making fun of my German English accent. Those Tiktokers are refreshingly honest with their feedback 😂. What I discovered: as a German, even if I produce English content, it will mostly be played out in Germany. As a result, german Tiktoker are unfamiliar with germans making English videos:
My favourite tweets:
---
My favourite Reddit Q&A:
A PhD student is trying to decide whether to exercise in the morning or evening, as they are concerned about balancing the demands of their academic work with their desire to maintain a healthy body weight and avoid gaining weight and are struggling with conflicting feelings of motivation, energy levels, and satisfaction.
---
A curated collection of further knowledge bites I came across this week.
And last but not least, here is a quote from the book I'm currently reading: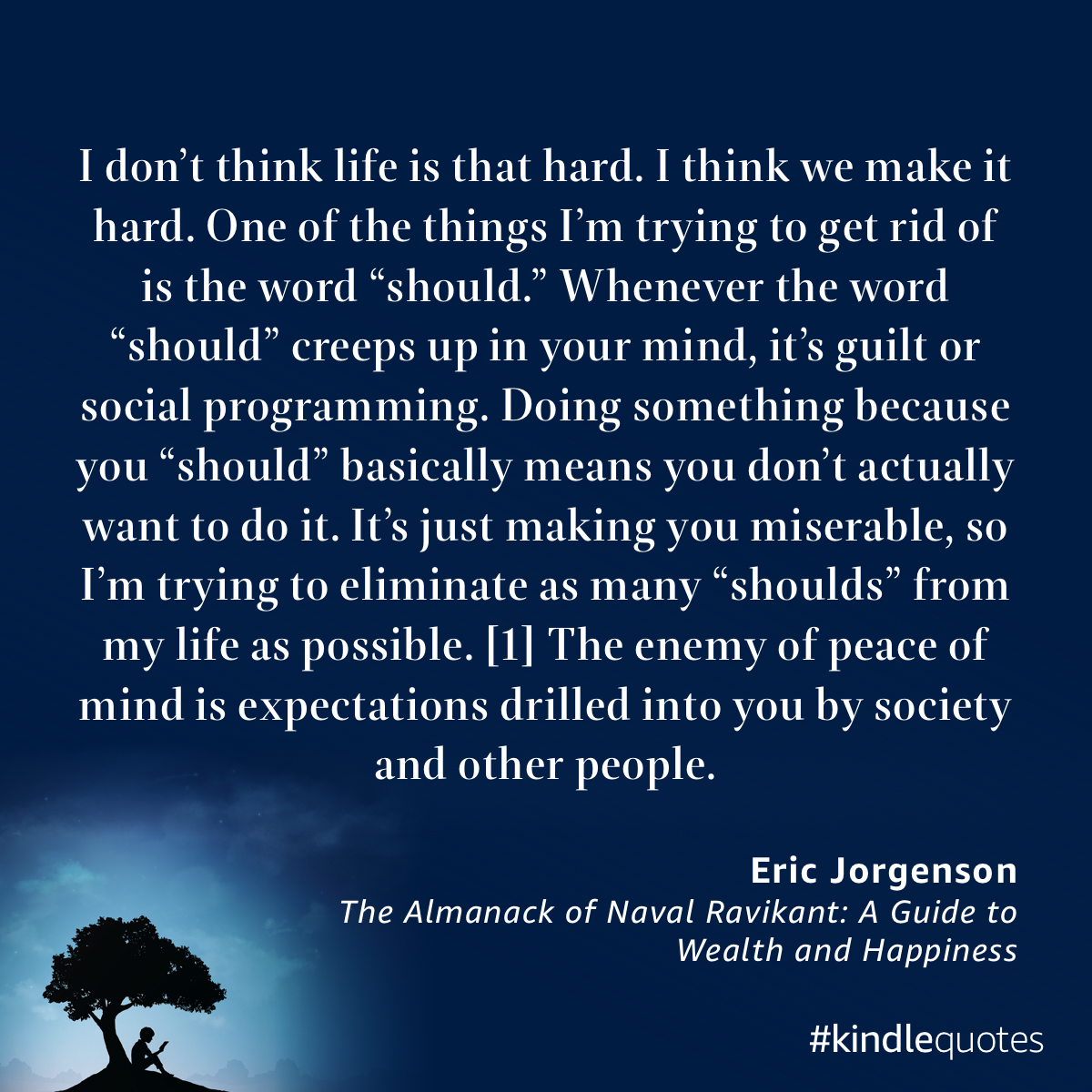 Conclusion
This concludes the Diligent Sunday newsletter for this week. I hope you enjoyed my essay on "The Why" behind Deliberate Diligence, and I wish you a prosperous week!