Diligent Sunday Newsletter / Issue #10 about Solopreneurship Side Hustles
Discover solopreneurship side hustles in today's Diligent Sunday Issue #10. Get strategies for building your empire while working your corporate job and learn the do's and don'ts of AI in content creation. Join Martin in transforming your passion for self-improvement into a successful side gig.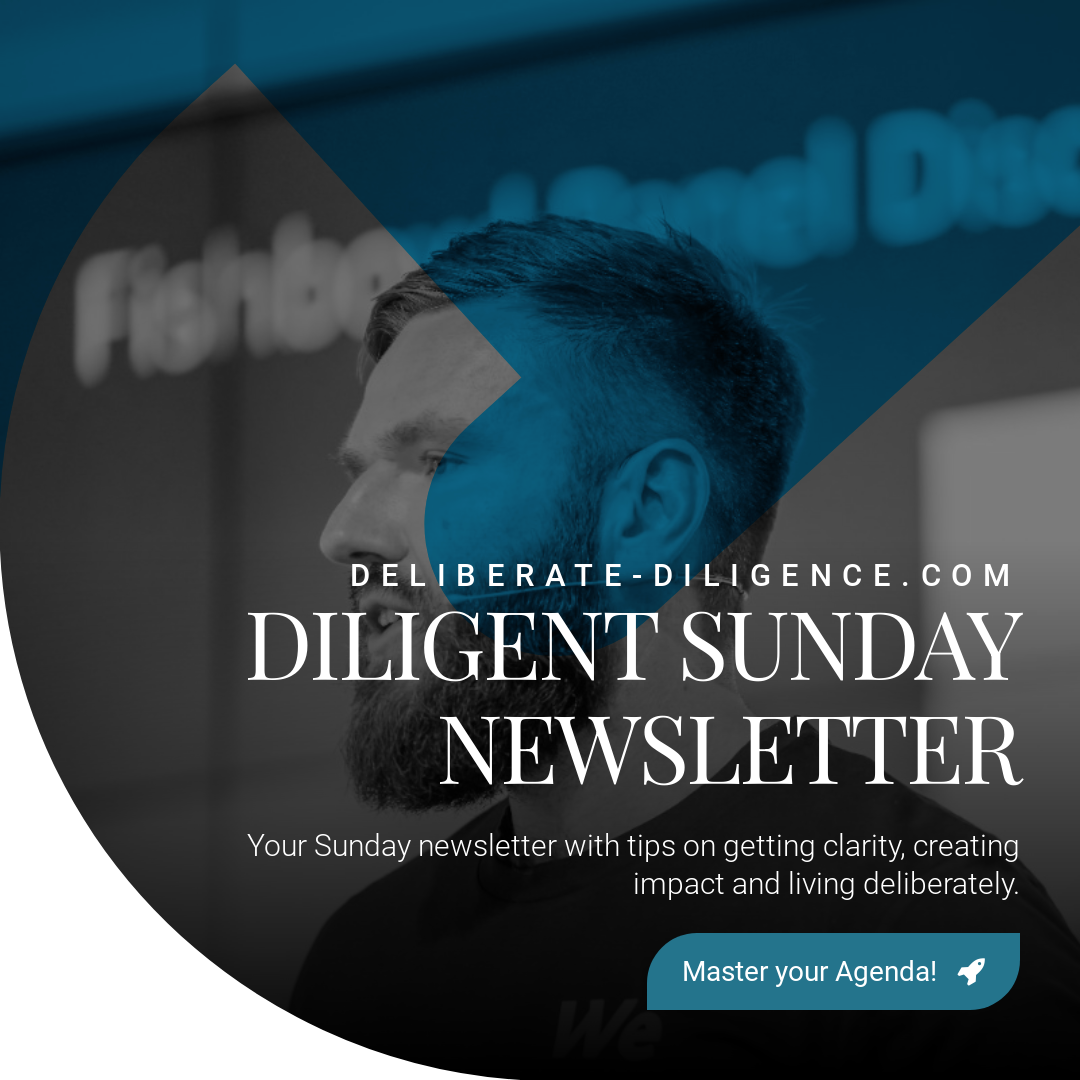 Dear Diligent Sunday Readers,
As we swiftly approach the 12th week of the year (23% year progress), we are gradually nearing the end of the first quarter.
How are your plans and goals progressing? Have you achieved a quarter of your desired outcomes? Feel free to share your thoughts in the comments section or on Twitter/LinkedIn.
It's often said that we tend to overestimate the short-term effects of our efforts and underestimate the long-term impacts.
It's because of compounding effects and tail events. Keep this in mind if your endeavours haven't entirely yielded the results you were hoping for.
I've struggled to balance my various goals, including health & fitness, work projects, and passion projects. I've previously written about this "magic triangle" in a past newsletter, discussing managing conflicting objectives and how your actions and flow truly reflect your priorities rather than intellectual plans on paper.
🏔️
Today's newsletter covers level 10 of the Deliberate Diligence Lifestyle Pyramid: "Build Your Empire." This involves creating your own business while still working your corporate job. We'll discuss the benefits of entrepreneurship and share strategies for successfully managing your side gig.
This is precisely why I grapple with numerous conflicting goals and limited resources. I aim to transform my passion for self-improvement, productivity, and mindset into a solopreneurship side hustle, which is the essence of progressing from the 9th to the 10th level of the pyramid.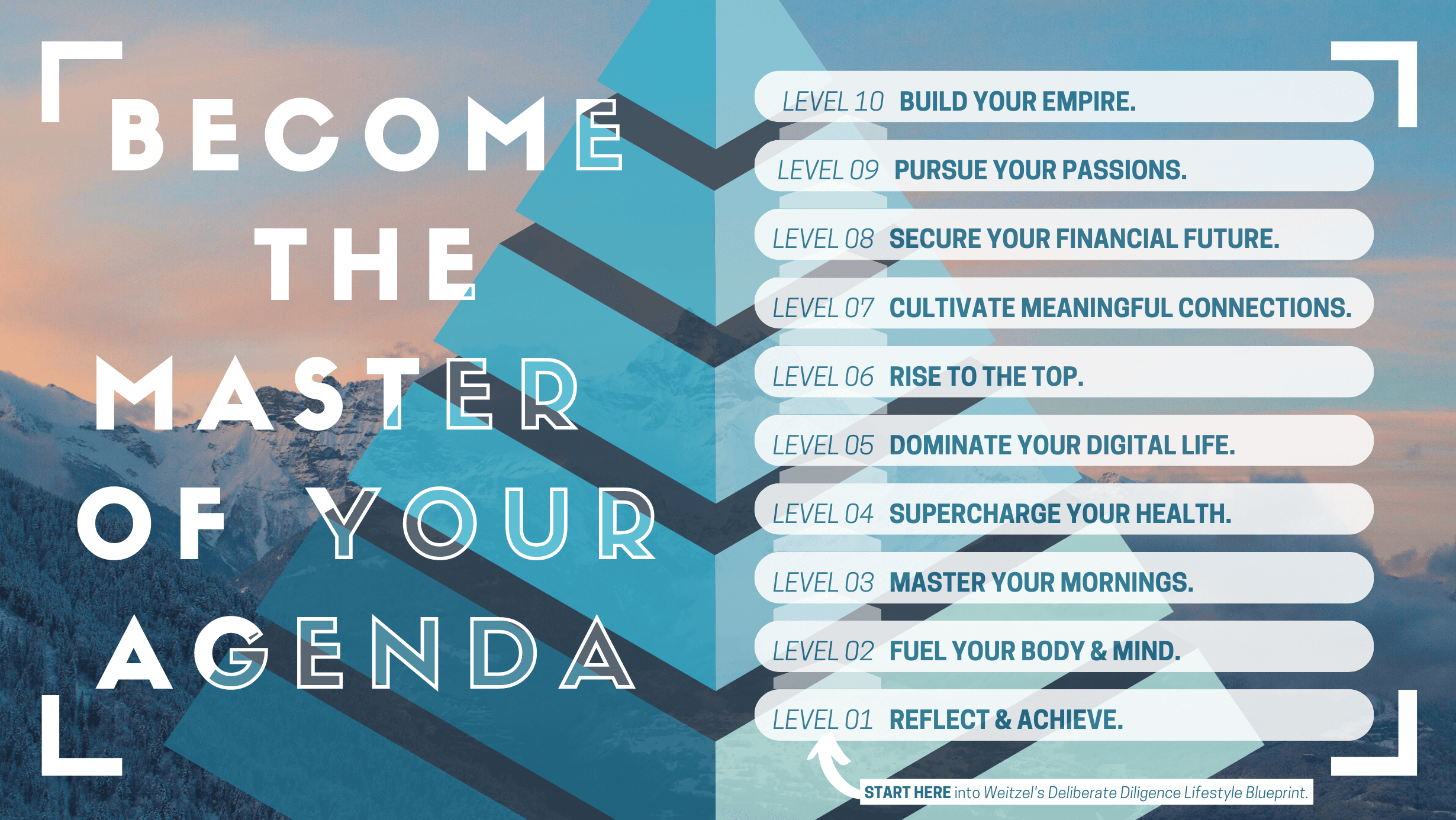 Over the past five months, I've gathered many experiences I'd like to share. After all, I aim to inspire my readers to unlock this 10th level once they reach the 9th.
I hope you gain valuable insights from this edition of Diligent Sunday, and I wish you a fantastic start to the week!
Best Regards,
– Martin from Deliberate-Diligence.com 
---
Today at a Glance:
💬 Quote of the Week: Why invest your time and effort into launching a side hustle?
🎓 Learning: How to Start Your Side Hustle with the Deliberate Diligence mindset?
🥸 Opinion: The Do's and Don'ts of AI Use in Content Creation
---

💬 Quote of the Week: Why invest your time and effort into launching a side hustle?
Naval's Teachings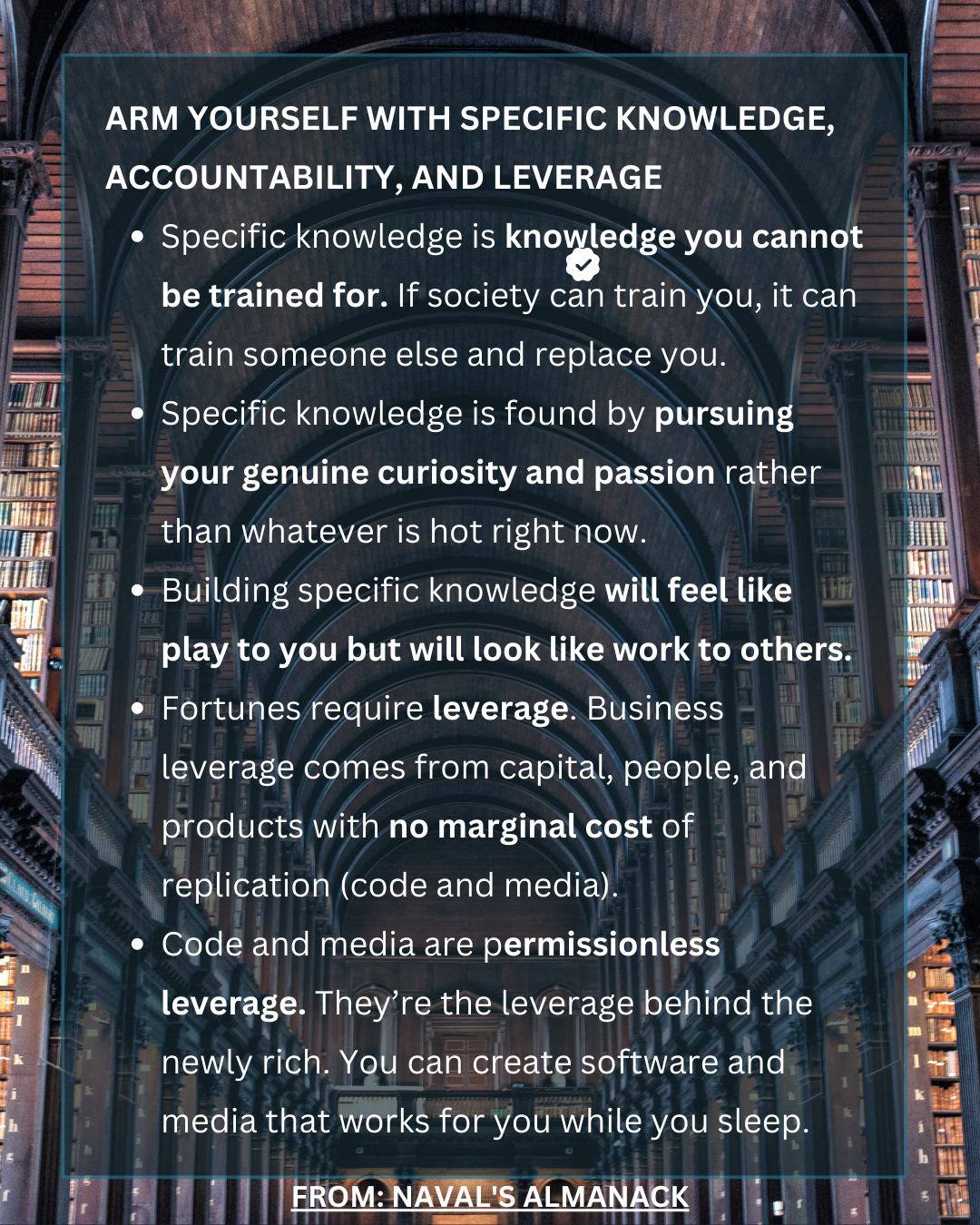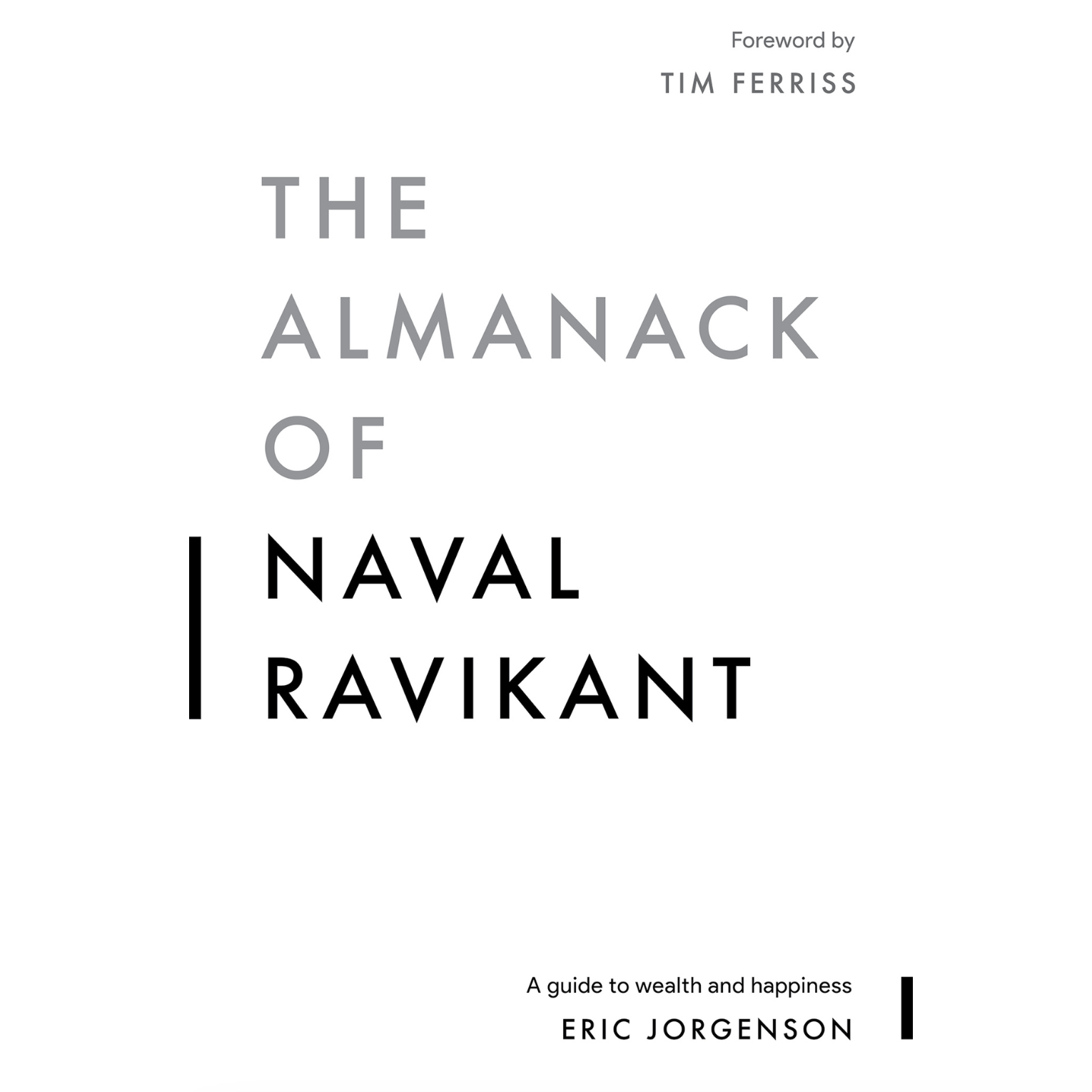 This message of arming oneself with specific knowledge, accountability, and age while pursuing genuine interests and leveraging code and media for financial prosperity is a central theme in Naval Ravikant.
Naval emphasizes that specific knowledge cannot be trained in traditional institutions but is discovered through passionately pursuing one's interests. He believes that building specific knowledge should feel like play to the individual but may appear as work to others.
To achieve financial success, the Naval stresses the importance of leverage. Specifically, he highlights the value of code and media as permissionless leverage that can generate income even while one sleeps.
Overall, Naval's teachings encourage individuals to take accountability for their growth and development by focusing on their specific knowledge and leveraging their skills and resources to create opportunities for success.
The Why of Entrepreneurship in General
Naval's quotes beautifully illustrate why one should fundamentally engage with entrepreneurship: it's about decoupling income from one's time investment and creating things that generate value for you, either passively or actively.
The concept of leverage described by Naval, i.e., creating something that brings you income without directly correlating to your time investment, is fascinating. It also makes sense when you're told about it, and there's no reason to assume it's not a viable path.
Marketing gurus promise anyone can embark on this path (to make money from this belief). See, for example, Tim Ferris's 4-Hour workweek, which promises that you can achieve Naval's idea by working just 4 hours a week.
The problem is that it's a lie. An honest, sustainable business doesn't just happen. From idea to execution, it's a long journey with many dependencies, both in the company and personally.
So, what path should one take to pursue this potential? There are generally entrepreneurs (very rare) or workers (very many) in society.
🏔️
I believe that the decision between entrepreneurship and a corporate job doesn't have to be either/or, and that there's a third way.
This path is not open to everyone, as it requires particular diligence, but you won't lack that you won't lack that since you're reading this blog.
Let's start from the beginning: There are three options:
---
Option A: Full-time in a paid job
This is the conventional path taken by knowledge workers. School, university, and then a 9-5 job. The classic.
Advantages:
You don't need any investment other than your trained human capital.
You have no risks and can change if in doubt.
You have a high level of planning security in your salary.
Disadvantage:
Particularly ambitious workers quickly hit the corporate salary ceiling - the salary doesn't grow as fast as their performance. You generally have no salary levers unless you have a significant bonus component as a salesperson (naturally capped) or have shares in a startup where you started as a worker.
If you stop working, you no longer have an income (except through insurance and retirement provisions).
You may lack the fulfilment that comes from working on something of your own.
Conclusion:
It's possible but quickly leads to development limits (10 years) for the most ambitious people.
---
Option B: Entrepreneurship
You work full-time or even 60+ hours a week on your business. Your risk, but also your reward. You use a form of leverage: capital, labour, or code/content.
Advantages:
If it goes well, you set a flywheel in motion that generates money even when you're not working. Your potential income is unlimited, and your business will likely have compounding effects.
You have fewer internal political dependencies than in an organization (only if you have employees) and can create value directly without dealing with your colleagues.
You gain an incredible amount of learning because you must be a generalist in creating & selling.
Disadvantage:
The 4-hour workweek and passive income are a myth. You'll work significantly more than in a corporate job, maybe even around the clock. The difference is that you still enjoy it.
If you build a bridge to nowhere, you'll be left with nothing if you've invested all your savings (except the learnings you've gathered in the process).
It's not easy to find a good business idea and implement it with perseverance. The business must have specific characteristics and suit your natural preferences to build leverage. E.g., do you want to work alone (solopreneurship) or create a team (classic entrepreneurship)?
---
Option C: The Third Way – Solopreneurship Side Hustle
This is the third path I recommend as part of the Deliberate Diligence Lifestyle Blueprint. Because here, you have the best of both worlds.
Advantages:
You have both the secured income of your regular corporate job and the opportunities for unlimited income leverage from your side hustle.
You become a polymath: in your job, you master your specializations, and through your side hustle, you learn additional generalist entrepreneur skills (legal, marketing, tech, sales, etc.).
You will feel more fulfilled than ever before. The sometimes slow pace and dependencies in the corporation no longer affect you, as you channel your extra energy and fulfilment into your side hustle instead.
Disadvantages:
This path is only for the most diligent among us because, as mentioned, the 4-hour workweek is a myth. I'll write more about this below, but in principle, you can assume that in addition to 6-8 hours in your regular job, you will also need to invest 2-4 hours daily in your side hustle. Combined with your health and family goals, it can be highly challenging for a while.
If things go wrong, you'll burn through a good amount of funds that you could have invested elsewhere. But this doesn't bother you in practice, as every euro invested in your projects feels well-spent.
You must be exceptionally resilient and flexible during your side hustle's first 6-12 months. In the beginning, you have little ROI (revenue, engagement, feedback. etc.), constantly encountering problems you haven't seen before, forcing you to pivot. Many give up when quick successes don't materialize immediately. My tip: be patient and adjust your expectations accordingly!
I recommend a Best of Breed approach, but only for the diligent amongst us
As mentioned, Option C is the model I currently favour and am trying to explore for myself. Accordingly, this is also the concept for the 10th pyramid level. I hope this brief overview and Naval's quote helped raise awareness of the topic and encourage you to consider whether and how this work and life model could suit you.
If you need some final motivation, check out this explore page of the CMS I'm using for Deliberate-Dilighence.com: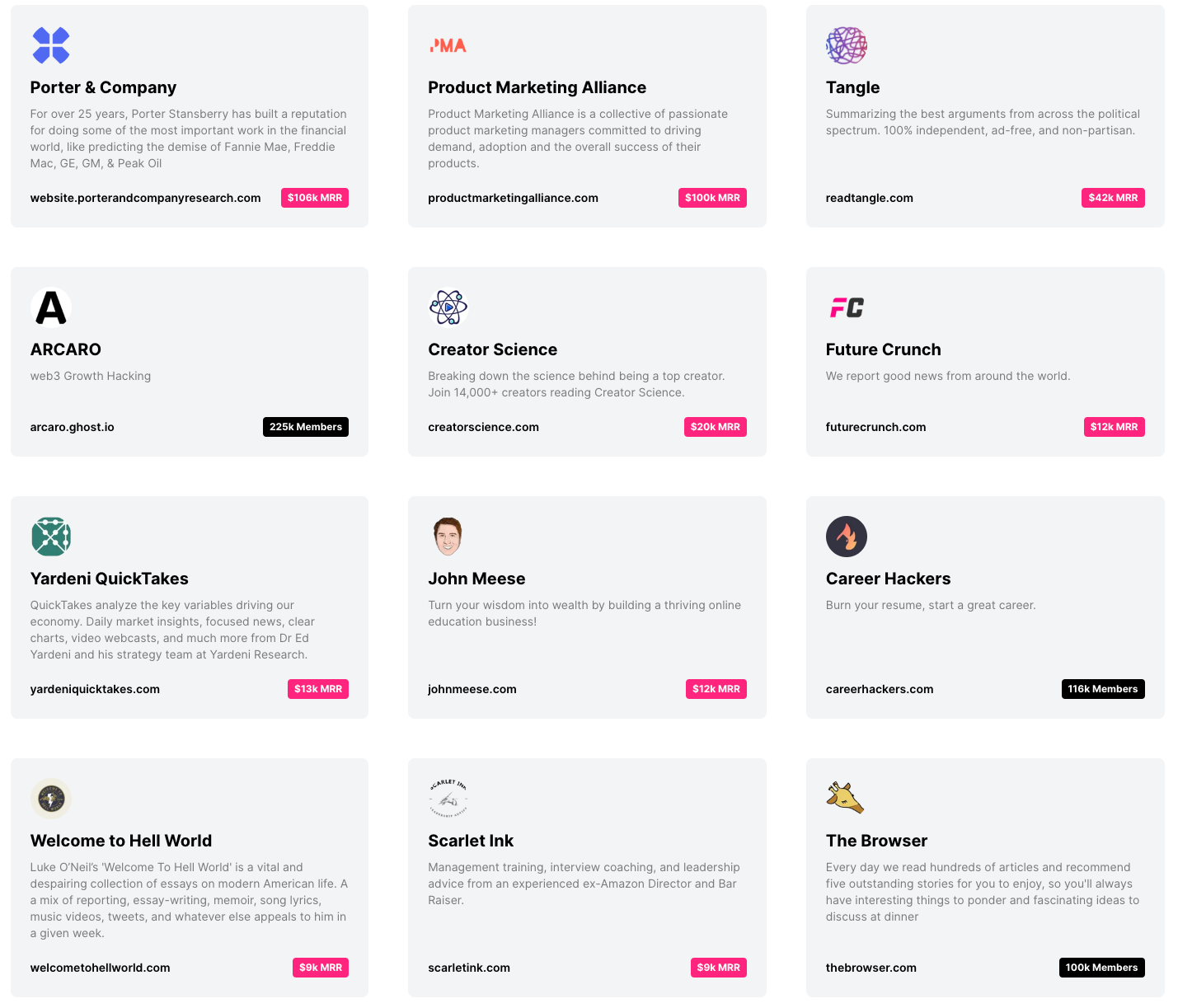 After seeing this, it was my final push to take my blog idea seriously and give it my all daily. I don't necessarily need an extra income of 20,000€ per month, but even an additional thousand or two per month would be fantastic.
Moreover, if you examine successful people, you'll notice they use the same techniques and methods as everyone else. There's no magic to it; you only need to learn from them and apply their practices to your work.
Now, let's move on to how to approach a side hustle.

🎓 Learning: How to Start Your Side Hustle with the Deliberate Diligence mindset?
I'll be writing more in-depth articles about this, but here's an approach I've chosen that has worked well so far.
Let's assume you want to build a content creation business as I do with Deliberate-Diligence.com.
Step 1: free up energy
I assume your days are already packed with activities and tasks without the side hustle. Therefore, you need to free up some of your daily energy to have the capacity to work on your side hustle significantly every day.
You have two ways: drop other priorities and activities or apply the Pareto principle to your other areas of responsibility.
What I mean with the second option is the following: let's say you would track your time commitment in two categories, valuable and time-wasting. You would be surprised how little of your time effectively creates value.
Example of work: There were weeks when I spent 8 hours a day in meetings, 40 hours in a row, and did nothing genuinely valuable except coordinate things and gather opinions. This is part of the corporate job, of course. Still, you can be more clever by applying the Pareto principle, focusing on the 20% of tasks and meetings that create 80% of the value and consistently ignoring the rest, even if it may seem rude.
The result? With less energy input, you will generate more value in your corporate job and thus save the energy you need for your side hustle.
The same applies to sports and exercise: here, too, there is an optimum where it is not worth investing more time but instead focusing on using the time you have as effectively as possible.
Step 2: Allocate Time
What's not on the calendar doesn't happen. Additionally, we need to consider that we need consistency in the long term, so our daily work block should ideally only be at a time when we have a lot of willpower and when work and family leave us in peace.
For me, this is the case before work, between 6:00 and 9:00 a.m. I have blocked this time exclusively for two things: 2 hours for my side hustle and one hour for sports.
I recommend that you do the same or adapt it in a similar way that suits your circumstances.
Many prefer to work at night or even earlier, between 4:00 and 6:00 a.m., before the children wake up. Choose what works best for you, and be careful not to be misled by limiting beliefs. For example, many people believe they cannot work in the morning. I think that's more of a self-fulfilling prophecy.
The key to your morning work will be to go to bed earlier, for example, around 9 p.m. That's the price you must pay for your side hustle - you won't have time for partying, gaming, and entertainment in the evenings.
Step 3: Set up Tech & Toolset for MVP
As a content creator, your initial investments and training in tools and platforms are manageable. Here is a selection of tools that I have set up:
Blog / Newsletter: Build your blog's MVP in two afternoons on the weekend using Ghost.io and its included templates and integrations.
Website Analytics: Use Fathom as a more straightforward, less data-consuming alternative to Google Analytics.
Twitter, LinkedIn, and Instagram for promoting text and image content.
Tiktok and Youtube Shorts for video content.
AI augmentation: ChatGPT Plus subscription.
Cookie banner: Use CookieYes.
Create images and videos: Use Canva.
Content idea database: Use Notion to organize your content system.
Stock images: Unsplash
That's all you need to get started!
Step 4: Take the first steps and experiment
You could start by reading many books and watching tutorials, but I recommend not overthinking it and diving in. Advanced content creators have two pieces of wisdom that I can confirm:
Your first 50-100 blog articles, tweets, and videos will likely go unseen because you won't have an audience at the beginning. Write for yourself and learn what your content and tone are.
Other people think much less about you than you think they do (as you tend to feel like the main character on whom everyone's eyes are fixed). Honestly, the risk of embarrassing yourself is close to zero. Write openly and authentically about what you have in mind, and don't hide behind platitudes.
You'll notice that in the first 3-5 months, you'll become aware of many things related to content creation. Use these initial months to get used to the variety of tasks involved:
Running a blog and accounts
Optimizing your profile
Defining your target avatar (who do you want to help) and value proposition, and continually improving them; choose a niche (the standard advice is to start with a particular niche. I began with productivity in general, which was challenging to stand out in, but it also worked)
Writing various content types (essays, weekly newsletters, tweets, LinkedIn posts, Instagram/TikTok captions, etc.)
Networking with other creators
Engaging with your existing and potential users
Creating images, videos, and carousels
Addressing notifications
And so on.
Step 5: Sort out the legal aspects
I believe many people don't do this (promptly), but I tend to err on the side of caution. In Germany, for example, you must register a small business as soon as you intend to generate profit (which can be done quickly and digitally).
Also, make sure that the licenses for all images you use are clarified. For example, only use photos that you find on Unsplash or Canva to be on the safe side.
If you're setting up your solopreneurship as a side hustle like me, you must also inform your employer. In my case, HR gave me a formal process to fill out. It was OK with my boss.
You must/may also file a tax return with the small business, so don't forget that. For now, I only have costs and no revenue, making filing easier 😅.
Finally, your blog must meet specific standards. In Germany, for example, it must have an imprint or, in Europe, a cookie banner to establish transparency about data processing.
I've seen similar things in the US, especially California, so you might want to check your local regulations.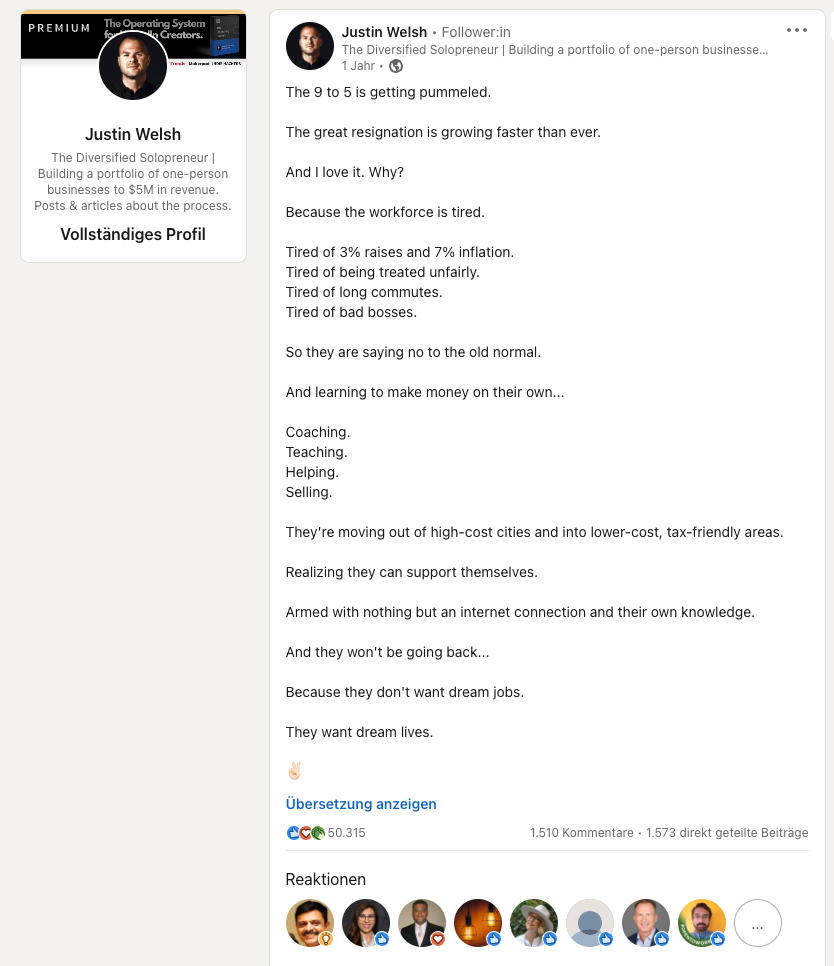 Step 6: Look for people who are a few steps ahead of you and read/watch their tutorials
Once you are familiar with the basics of your business, it makes sense to delve into the best practices and tutorials available in the market. This can help you leapfrog some common mistakes.
❗
However, here's a word of caution: I've realised that these tutorials are often a look into the past.

If you watch a masterclass from a successful content creator today, it's usually someone who built their business during Covid times. That was a completely different situation.

At that time, for example, it was easy to grow on LinkedIn simply because writing with actual content was new and innovative.
I mean to say: Pick out what makes sense to you from these tutorials, but don't feel compelled to implement it 1:1. If you want to stand out and be in the top 1%, you have to find your own path that also fits your time.
I found three tutorials helpful (don't worry, no affiliate links :D):
https://www.justinwelsh.me/: Justin has an excellent course for content creation solopreneurship on LinkedIn. It was compact and explained everything essential without much fuss (149€ or so).
https://www.brandbldr.co.uk/: Ross has a comprehensive and structured course covering everything related to personal branding. You also get access to his private community (I don't know what it costs currently, but my perceived value is about 500€).
https://thedankoe.com/: The "Modern Mastery HQ" community has dozens of excellent courses, a community, and everything for only 20€ or so per month. The only downside is that finding the thread in the curriculum can be difficult.
Step 7: Iterate, Pivot, & Systematize.
Every 2-3 weeks, I have the urge to incorporate my latest learnings and pivot my blog. It's often a good idea to follow these impulses. Initially, you'll do this very often, but the longer you're at it, the more your system will stabilize.
As examples, here are some selected learnings from me that you might have noticed on the blog:
Initially, I focused on my brand, "Deliberate Diligence", and put myself in the background. That was a mistake and led to hardly any engagement. People want to follow other people on social media, not anonymous brands. Things have been going more smoothly since I put myself more in the foreground.
I initially titled the blog a productivity blog, which was too broad and abstract. Nobody wakes up in the morning wanting to be more productive. It's just a means to an end for other, more emotional outcomes. At one point, I had a particular value proposition (only people pursuing a side hustle). Now, with the "Deliberate Diligence Lifestyle Blueprint," I've found a red thread which I feel very comfortable with. It allows me to be very specific and talk about various areas of life. I can refer to it when someone asks how I plan to solve a problem. It's also an excellent structure for the curriculum of a masterclass that I can create and monetize later.
The outcome isn't productivity but a transformation, like the one I've experienced in the last 10-15 years. That makes my content very authentic (I know what I'm talking about because I've experienced everything). It allows me to empathize with my audience (because I felt miserable, too and looked for a way out).
In addition to pivoting the value proposition, you'll become more effective and efficient step by step in various tasks involved in content creation. For example, I have a content ideas database with 200 ideas and never have to think long about what to write about. Also, the writing process is swift - I can complete a 2,000-word article in 2 mornings. It used to take much longer at the beginning.
Step 8: Find the Core of the Core, Double Down on the Essential
You will observe many things other creators have successfully implemented and naturally want to try them out yourself. That's OK, but eventually, you will have so many standard tasks that your day consists only of your side hustle. This should not be the goal of the exercise, at least not permanently.
The solution, again, is to apply the Pareto Principle: which activities and platforms genuinely move you forward, and which do not?
Here are some examples from my side hustle to make it more tangible:
I used to be on all platforms, including Pinterest and Facebook, but there was very little resonance, so now I am only on Twitter, LinkedIn, and Instagram. The next candidate for elimination is theoretically Instagram, as there is a lot of engagement, but I am unlikely to find my potential customers there.
I used to produce videos, which was fun, but it also took an extra half hour every day. I now let that go to avoid diluting myself too much.
I learned that at the beginning of content creation, it's not about the content but about networking. Intuitively, I thought 80% of the time would be spent writing and 20% on social media. The truth is that it's more like 30% content creation and 70% social media. For me, that's unfortunate because I enjoy social media less, but I've also realized that growth and engagement come from it. There's no way around it, and it must be given priority.
Think carefully in this step about what is essential and what is not. Since many tasks must be performed daily, this makes the difference whether you work on them for 2.5 hours a day or 5, with comparable outcomes.
Step 9: Growing without Monetization
I have previously mentioned monetization, but it is worth considering when it is a good idea to start. Here are some points to consider when deciding which approach to follow:
Many content creators suggest that you can start monetizing from day one. This allows you to create a helpful offer, learn about your audience, and determine whether the right few customers are present, which is more important than having 100k+ followers. As a result, many accounts with "only" 5000 followers or so monetize well.
Other content creators suggest monetising only makes sense once you have reached a specific size (>50k followers) because scaling only becomes worthwhile.
All content creators agree that you should never produce a masterclass or similar product without confidence that someone will purchase it. You could, for example, create a pre-sale (discount, launch in 45 days) and only produce the product if you generate interest.
My suggestion is: If you want to offer consulting and personal coaching, you should start from day one. However, this is difficult as a side hustle alongside a corporate job.
Therefore, we should focus solely on scalable offers, and it may make sense to grow for a year without monetization before launching the first product.
Step 10: Considering First Monetization Options
Let's take a look into the future. You have grown your audience and built a community of fans. What products could you offer? Here are some ideas:
A 60-minute video masterclass on a specific problem for €49
A 3-4 hour course for €149
A paid newsletter with premium content for €5/month subscriptions
The classic: a book
A private community (subscription) with group coaching calls
Affiliate marketing and embedding advertising on your website
Earnings from creator funds on platforms such as YouTube, TikTok, and others.
I plan to try out some €49 offers in the summer.
Further notes about the content creator market
In content creation, it's easy to get swept up in the glamour and allure of success. However, it's important to remember that not everything is as it seems. The market is overcrowded, with a massive supply of creators vying for attention.
While the top 1% may be making all the money, the reality is that most creators struggle to earn even $100 per month. Additionally, the competition is fierce, and if you stop dancing for even a few days, your audience will likely move on to the next big thing. These factors contribute to a high burnout rate, making it crucial for content creators to approach their work cautiously and carefully.
🏔️
What conclusion does this lead to for you? I recommend that you should expect to work your way up to the top 1% of content creators. It will be tough if you don't feel confident that you can achieve that.
🥸 Opinion: The Do's and Don'ts of AI Use in Content Creation
As a final topic, let's discuss the recent advancements in ChatGPT and image generation. Generative AI is improving tremendously month by month.
The question arises: What does this mean for content creation? Is it a good idea to use such AIs or not?
Here's my opinion:
Yes, preparing to become an AI-augmented content creator would be best. AI will allow you to work about 30-40% more efficiently and, in particular, eliminate tedious standard tasks. Your role will shift from creation to editing.
Don'ts
It would be best never to tell the AI to write about a specific topic and publish the output. The result will not be good. The text may read well, but it will be average, lacking depth and personal touch. This won't win you any fans.
I've noticed that many people generate comments using AI on social media. The problem is that they all sound the same and are easily identified as generated without any thought put into it. You won't gain followers with comments like these!
Do's
Instead, you can, for example, quickly write a text in your native language with dozens of spelling errors and missing grammar. GPT will translate and improve the sentence structure, making it easier for your readers to consume.
Use GPT to play with language. I often write simple sentences and ask GPT how a Brit would express them more elegantly. The results can be beautiful and exciting. Or ask, what's the shortest way to say something without losing too many details?
Use GPT to generate content ideas and develop your target avatar. Describe to the AI the typical readers and customers you have in mind for your content creator business, and it can provide you with their specific struggles and pain points, which you can use to develop content.
In the above social media example: You shouldn't generate and post replies 1:1, but the AI can inspire you to create fantastic new engagement opportunities. For example, ask for a fitting joke, quote or contrarian opinions. You'll learn a lot of new perspectives this way.
All in all, the genie is out of the bottle and can't be put back.
You may like it or not, but you must come to terms with it. It's important to understand that AI should only be used as a tool - as AI augmentation - and not as AI automation. This is the only way to ensure that your content has sufficient originality.
🏔️
I could even imagine that a golden age for content creation is beginning now.

Why? Because most people are lazy, 90% of content creators will let AI write their texts completely. You and I can stand out wonderfully by continuing to work diligently with our original ideas and content.

The community will notice this and reward us with growth, engagement, and customers.

Conclusion
Well, the article ended up being twice as long as I wanted it to be, with almost 4600 words. Maybe I should use an AI to shorten it and make it more concise, haha :D.
But anyway, that's just how I had it in my mind. I hope I was able to provide you with some knowledge nuggets from my journey to unlock Level 10 of the Deliberate Diligence Lifestyle Blueprint, and I wish you a fantastic start to the week.
Best Regards,
– Martin.